Exemple de Android Intent implicite, ouvrez une URL, envoyez un email
Suivez-nous sur notre fanpage pour recevoir des notifications chaque fois qu'il y a de nouveaux articles.
Facebook
Cet exemple simple, lorsque vous cliquez sur un Button qui nécessite de voir le site Web par URL, vous créez Intent implicite, une Intent a été envoyée au système Android pour décider quels composants seront ouverts, peut-être que votre équipement installe de nombreux navigateurs différents (Firefox, Chrome, ...), l'appareil l'ouvrira dans votre navigateur par défaut ou votre navigateur préféré.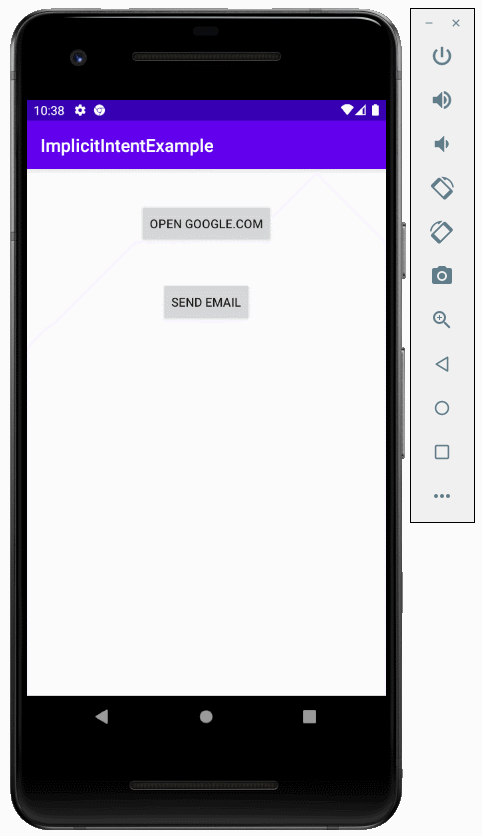 En plus, les exemples incluent également: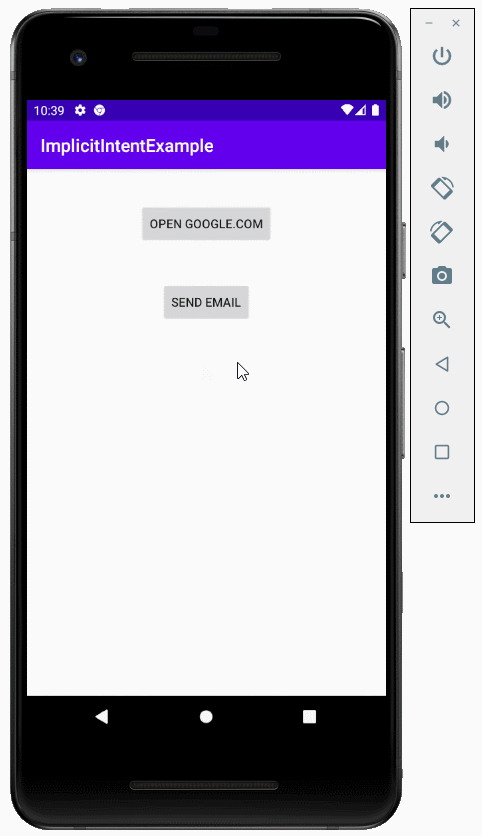 Note: The Android system will try to find its best application to send email. On the emulator, there may not be a good emailing application.
Créez un nouveau projet Android nommé "ImplicitIntentExample".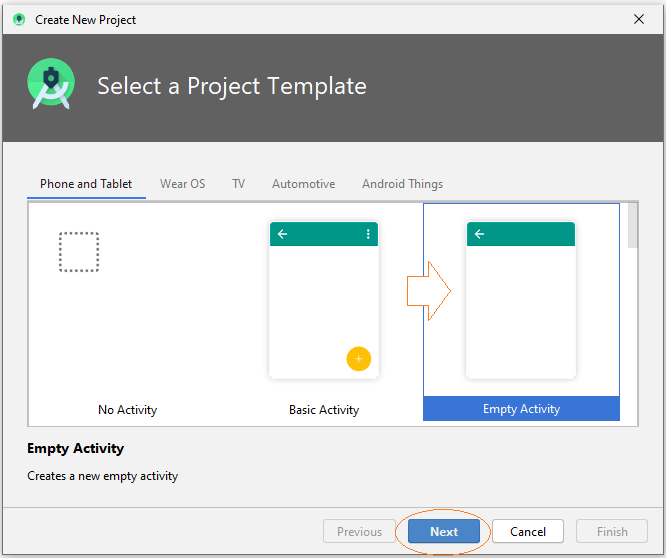 Name: ImplicitIntentExample
Package name: org.o7planning.implicitintentexample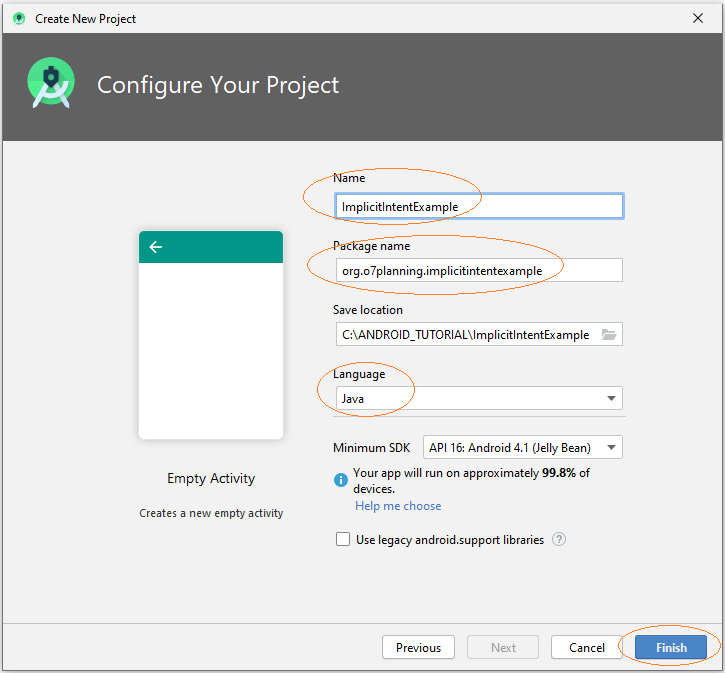 The interface of the application:

activity_main.xml

<?xml version="1.0" encoding="utf-8"?>
<androidx.constraintlayout.widget.ConstraintLayout
    xmlns:android="http://schemas.android.com/apk/res/android"
    xmlns:app="http://schemas.android.com/apk/res-auto"
    xmlns:tools="http://schemas.android.com/tools"
    android:layout_width="match_parent"
    android:layout_height="match_parent"
    tools:context=".MainActivity">

    <Button
        android:id="@+id/button_openURL"
        android:layout_width="wrap_content"
        android:layout_height="wrap_content"
        android:layout_marginTop="38dp"
        android:text="Open Google.com"
        app:layout_constraintEnd_toEndOf="parent"
        app:layout_constraintStart_toStartOf="parent"
        app:layout_constraintTop_toTopOf="parent" />

    <Button
        android:id="@+id/button_sendEmail"
        android:layout_width="wrap_content"
        android:layout_height="wrap_content"
        android:layout_marginTop="42dp"
        android:text="Send Email"
        app:layout_constraintEnd_toEndOf="parent"
        app:layout_constraintStart_toStartOf="parent"
        app:layout_constraintTop_toBottomOf="@+id/button_openURL" />
</androidx.constraintlayout.widget.ConstraintLayout>

MainActivity.java

package org.o7planning.implicitintentexample;

import androidx.appcompat.app.AppCompatActivity;

import android.os.Bundle;
import android.content.Intent;
import android.net.Uri;
import android.view.View;
import android.widget.Button;

public class MainActivity extends AppCompatActivity {

    private Button buttonOpenURL;
    private Button buttonSendEmail;

    @Override
    protected void onCreate(Bundle savedInstanceState) {
        super.onCreate(savedInstanceState);
        setContentView(R.layout.activity_main);

        this.buttonOpenURL = (Button) this.findViewById(R.id.button_openURL);
        this.buttonSendEmail = (Button) this.findViewById(R.id.button_sendEmail);

        this.buttonOpenURL.setOnClickListener(new View.OnClickListener() {
            @Override
            public void onClick(View v) {
                openURL();
            }
        });

        this.buttonSendEmail.setOnClickListener(new View.OnClickListener() {
            @Override
            public void onClick(View v) {
                sendEmail();
            }
        });
    }

    // The method is called when the user clicks on "Open google.com" button.
    public void openURL( )  {
        String url="https://google.com";

        // An implicit intent, request a URL.
        Intent intent = new Intent(Intent.ACTION_VIEW, Uri.parse(url));
        this.startActivity(intent);
    }

    // The method is called when the user clicks on "Send Email" button.
    public void sendEmail( )  {

        // List of recipients
        String[] recipients=new String[]{"friendemail@gmail.com"};

        String subject="Hi, how are you!";

        String content ="This is my test email";

        Intent intentEmail = new Intent(Intent.ACTION_SEND, Uri.parse("mailto:"));
        intentEmail.putExtra(Intent.EXTRA_EMAIL, recipients);
        intentEmail.putExtra(Intent.EXTRA_SUBJECT, subject);
        intentEmail.putExtra(Intent.EXTRA_TEXT, content);

        intentEmail.setType("text/plain");

        startActivity(Intent.createChooser(intentEmail, "Choose an email client from..."));
    }

}